Key LIBOR Rates Rise Despite Rate Cuts Around The Globe
Yesterday, the Reserve Bank of Australia (RBA), which is Australia's central bank, cut its benchmark rate by an extraordinary 100 basis points (1.00 percentage point) despite a second-quarter inflation rate of 4.5%. Earlier today, other central banks in key industrialized nations, in a coordinated effort to stem the chaos that has gripped financial markets, cut their benchmark rate as well. The U.S. Federal Reserve cut by 50 basis points, as did the European Central Bank (ECB), the Royal Bank of Canada, the Bank of England, the Swiss National Bank and Sweden's Riksbank.
China's central bank cut their benchmark rate by 27 basis points (0.27 percentage point.)
Japanese central bankers applauded the actions taken by their foreign counterparts, but opted to keep their already low benchmark rate at 0.5%.
The Hong Kong Monetary Authority cut it's benchmark rate by 100 basis points.
Despite the above actions, the yield associated with key LIBOR maturities, when compared to the same yields 7 days ago, rose:
the 1-Month LIBOR rate has increased by 0.29125 percentage point

the 3-Month LIBOR rate has increased by 0.37375 percentage point

the 6-Month LIBOR rate has increased by 0.07 percentage point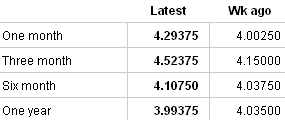 LIBOR
Image courtesy The
Wall Street Journal
.
Notable
: the 3-month LIBOR rate ended the day at
4.52375%
, while the
U.S. prime lending rate
ended the day at 4.50%.
Labels: libor