1-, 3-, 6- and 12-Month Eurodollar LIBOR Rates All Declined Today
The 1-, 3-, 6- and 12-month Eurodollar LIBOR rates all declined today.
The
TED spread
is now
2.22625
percentage points; it was 2.40875 yesterday and 2.64625 last Friday. A TED spread of 1.00 percentage point or lower is considered within the normal range.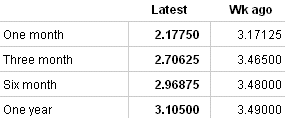 Image courtesy The
Wall Street Journal
.
A Eurodollar is a U.S. dollar deposited in any bank outside the United States, and therefore not subject to regulation by the U.S. Federal Reserve. U.S. dollars deposited in a London bank are Eurodollars, as are U.S. dollars deposited in a bank in Singapore.
Click here for historical LIBOR
values.
Click here for a chart that compares American benchmark rates to LIBOR
.
Labels: libor, TED_spread